by Michael Leonard
Even though The Rolling Stones seem determined to continue to tour, it's unlikely there will ever be another new Rolling Stones album. After 50-plus years, that's understandable.
So, what about their catalog? The Rolling Stones have rarely been album "conceptualists" – unlike peers The Beatles or various prog rock troupes that followed – and most of their albums are simply their most recent songs laid-down and smacked out into stores. There are good and not-so-good albums in their rich history, but what's your favorite?
Three Eras?
Rolling Stones Gear author Andy Babiuk recently told Gibson.com how he sees the band in three guises: "There's the Brian Jones era, the Mick Taylor era, the Ronnie Wood era… I almost look at them as separate."
I agree. Despite Keith Richards being the guitar "glue" throughout, the Stones did change depending on his six-string partner.
Have your say on these albums… and any other Rolling Stones albums you may hold fondly.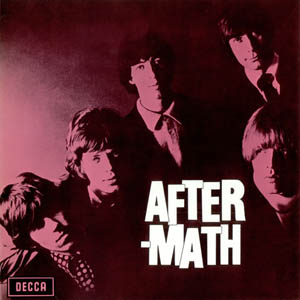 Aftermath of 1966 is arguably The Stones' first truly great album, even if Out of our Heads was a great guitar rave-up. Aftermath is original songs for a start, and expands the Stones' sound massively. From Brian Jones' sitar on "Paint it Black" to the jazzy "Under My Thumb," to Jones dulcimer playing on the baroque "Lady Jane," it takes the youthful rock'n'rollers to a new dimension. At 11 minutes, "Going Home" remains a bit of a chore, but amid the bluesy fluster,Aftermath was the first hint of true greatness.
The Stones got psychedelic on Their Satanic Majesties Request, but even they eventually hated it. They were trying to do a Sgt. Pepper, but that was never the Stones' strength. Beggars Banquet (1968) got them back on course. Glyn Johns, the album's engineer and longtime collaborator, says that Beggars Banquetsignalled "The Rolling Stones' coming of age." It's astonishing, as The Stones return to their blues roots. Side 1 (as it used to be on vinyl) starts with "Sympathy for the Devil." Side 2 with "Street Fighting Man." Brian Jones was often absent, while Keith Richards took up new ways to play rock-hard acoustic. Richards also sings on "Salt of the Earth."
Mick Taylor eventually replaced Brian Jones, though they both played a little on Let It Bleed (1969). This is mostly a "Keith Richards album", full of classics, from "Gimme Shelter" to "Country Honk," to the flowing "Midnight Rambler" to the Stones' own "Hey Jude", "You Can't Always Get What You Want."
And Sticky Fingers (1971) was just as strong. Taylor gets to stretch his guitar skills on "Can't You Hear Me Knocking," "Brown Sugar" is another killer Keith riff-fest, "Wild Horses" is probably the Stones' greatest acoustic song, plus you get "Sister Morphine" and "Moonlight Mile." Could they ever top this?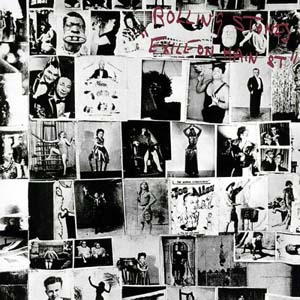 Exile on Main Street (1972) says: yes. It's full of incredible guitar interplay between Richards and Taylor and its sprawling double-disc format is no hindrance – you just more prime Stones. "Rocks Off,", "Tumbling Dice," "Torn and Frayed," "Shine a Light," "Happy"… and much more.
Goats Head Soup (1973) was decent, but only the decadent rocker "Star Star" and ballad "Angie" are outstanding. And then Ronnie Wood replaced Mick Taylor.
Black and Blue (1976) was no stellar debut for Woody, but the Stones did grow for Some Girls (1978), incorporating punk-ish guitar stabs and disco-influenced funk. Emotional Rescue (1980) continued the dancier theme but, being crafted of leftovers and hastily written new songs, didn't quite match Some Girls.
But Stones "leftovers" could still deliver. Tattoo You (1981) is arguably the last truly great Rolling Stones album. Some songs dated back to the early 1970s, but with a crisper production the album turned out a winner. "Start Me Up" is classic Richards open-G/5-string riffology. His enduring love of reggae closes the record with the sublime "Waiting on a Friend," with a sax solo by Sonny Rollins. "Waiting on a Friend" actually features Mick Taylor on guitar: it was a work-in-progress song for Goats Head Soup in 1972.
Even the oddities are engaging. "Slave" was a throwaway rap/jam from 1975, but when remixed 
and overdubbed, it sounded groovily great. It's also a lesser-known Stones song that proves what great interplay they could achieve, even when just jamming swaggering blues. Strange fact? Pete Townshend sings backing vocals.
The rest of the 1980s weren't so kind to the Stones. Richards and Jagger fell out and Undercover (1983) and Dirty Work (1986) were unremarkable. The 1990s saw some return to form withVoodoo Lounge (1994), but by then the Stones were mainly a "heritage" act. They rarely played new songs live, instead sticking to trusted classics.
Stripped (1995) was yet another live album but this time "acoustic." It's good, but probably not as good as any Stones fans would hope.
Some like latter albums. The most recent Stones album, A Bigger Bang (2005), sold well and was critically praised. But this time, it was Ronnie Wood who was often absent. And with no fifth member, Mick Jagger even played bass on four tracks. It could be the last Rolling Stones album now…
But in all this, there's been 24 Rolling Stones albums. "A good innings" as cricket fan Jagger might say.
Of course, the "best" Rolling Stones album is likely a compilation: Hot Rocks or Forty Licks. But what of the original albums?
There are many other Rolling Stones albums you maybe prefer.
Courtesy of Gibson.com
Comments
comments
Powered by Facebook Comments