by Michael Leonard
The 1970s boasted many famed live albums, but one of the ones was Frampton Comes Alive! by Peter Frampton. It made the Englishman – a pop pin-up, yet also a mercurial guitarist – a huge star, selling 17 million copies. In 2011-2012, Frampton revisited that setlist on a long-running tour, and he recorded it all for release. He explains his newFCA!35 live album to Gibson.com.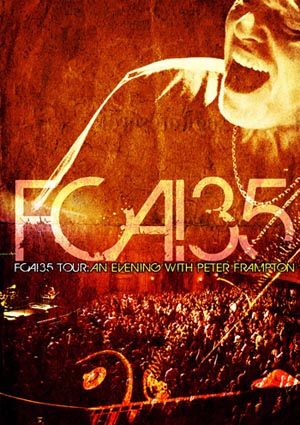 FCA!35 Tour: An Evening with Peter Frampton is out now on live 2xDVD and Blu-ray, and there's The Best Of FCA! 35 Tour 3xCD set also. Buy the lot and you will have to take the day off just for the first listen.
"It's six hours of your time. Maybe people should wait until they have a cold or something and need to take time off?" laughs Frampton. "But as far as I'm concerned, if you are going to do an anniversary tour, it's a given that you have to make a DVD. So we multi-track recorded every one of 116 shows.
"It's taken a while to pull this together, because I wanted the best performance of each of the tracks. Whether it was Washington D.C. or Manchester, U.K, I wanted the best on here."
This must have been a large task to edit?
Yes, but even I didn't realize what a big job. Holy crap! The DVD is one thing – that was just two nights. For the DVD, we had to choose the music first so the DVD could be edited. And then make the film look good. Editing audio and visual together is time-consuming. Editing a live DVD is a whole story in itself.
But after I'd finished that, I had to listen to everything again for the CDs. But we had been organized. We had a notebook in which, after every show, all band members would put down their thoughts on which performances they really liked. There was 38 to 40 where everyone said: good show! I gravitated to those.
Was it hard to keep perspective on what you'd played every night?
Listening to 40 versions of "Do You Feel Like We Do?" is taxing, even if I wrote the song. I don't think I'll be able to play that song again. It's done now. I should now call it "Have You Felt Like I Did?" haha!
Did you feel the pressure of cameras on you for the filmed gigs?
Yes. We first planned to film just one night at the Beacon (NYC), but I didn't feel we got as much as we wanted. So we then filmed Milwaukee (at the Pabst Theater). I wish we had filmed every night. But if we'd done that, I would now be in debtors' prison.
It's an exorbitant amount of money to make a live DVD, with all the cameras. Everyone says filming is cheap now. It's not! You've got to pay for many people, the best cameramen, and then you're in a theater that is probably a union building. So you have to pay the union for recording and filming in that building also. I'm a believer in unions… to a point. But it can get to the stage that you can't do certain things in certain buildings.
Did you enjoy revisiting that set of songs after 35 years?
I did. We hadn't done "Something's Happening" for years. We hadn't done "Doobie Wah" since the 1970s. The first night we walked out at New Jersey, the atmosphere was electric, people were going nuts. We started with the [spoken] intro to Comes Alive! – I had to include that. But when we started we weren't quite prepared for the audience. It really was like going back to the '70s. It was wonderful.
Did you especially enjoy playing any particular songs?
Doing "Doobie Wah," and having Stanley Sheldon back (on bass) – who was on the original live album – was pretty special. We hadn't done "Nowhere's Too Far (For My Baby)" or "Jumpin' Jack Flash" for years. "Jumpin' Jack Flash is nearly as long as "Do You Feel Like We Do?" but it's a very exciting piece to play.
Some people still think it's sacrilege to cover The Rolling Stones, though?
"Jumpin' Jack Flash", the way we do it, is different. Some people may find it odd. But it was on the Comes Alive!original so we had to do it."
Did you have to re-learn some of these songs?
Not really. I've played these songs many times! I listened to a few again, once or twice, and they came back to me quickly. The band were very excited about playing the whole thing again – I've done it before, but it's the first time they've done it ever."
Your guitar playing has always been acclaimed… but are you a better guitarist now than you were in 1976?
I would hope so. I've moved on as a player. More years "under the belt," many more influences. It's just experience and experimentation. I still play and write at home, when no-one else is listening, and I make a lot of mistakes. But sometimes I hit on a great riff. And I'm still stealing from the best!
The guitar is an extension of me. It always has been. I always want to be playing something tomorrow that I can't play today. That's my motto."
FCA!35 expands on the original album. Here's a snippet from the DVD of Frampton's cover of Soundgarden's "Black Hole Sun."
Interview courtesy of Gibson
Comments
comments
Powered by Facebook Comments