by Michael Leonard
Radiohead released their debut album, Pablo Honey, 20 years ago in February 1993. Since then, they've achieved their own low-key megastardom. What makes Radiohead so very special?
I first listened to Radiohead via "Creep." Sure, I'd heard them before but "Creep" was when I really listened. On its second single release – it flopped first time – it became an alt.rock smash on both sides of the Atlantic. Dramatic and dynamic, with outrageous guitar tones, it hit a nerve with the grunge generation looking for something more elaborate. Pablo Honey was a solid-enough debut – other singles "Pop is Dead" and "Anyone Can Play Guitar" was also decent, if frantic – but "Creep" was the highlight and pointed the way to Radiohead's brooding future.
In the two decades since, Radiohead have thrown numerous curveballs and, I think, have grown into a trulyprogressing rock band. Not "progressive rock", but "progressing" as in moving forward. Electronica-influenced albumsKid A and Amnesiac are fascinating, but low on guitar thrills. So, if you want to hear the best of Radiohead's guitar music, why not try these?
"The Bends" (1995)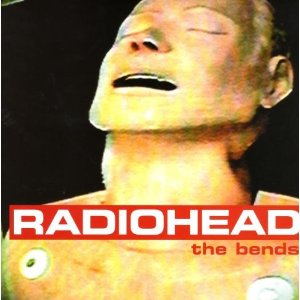 Radiohead's second album blew Pablo Honey off the map. There was much more drama throughout, from the lullaby-esque "ballads" "High and Dry and "Fake Plastic Trees" to the scabrous guitars of "Just". "Street Spirit (Fade Out)" even started the "prog" tags – to some, it could have been by early-'70s Genesis or Pink Floyd. Inventive videos helped – fans still debate the meaning of the "Just" video. Even so, The Bends stuttered in the U.S. charts peaking at just No.88. But it remains a superbly strong album, from guitars to writing to arrangements.
 "OK Computer" (1997)  
OK Computer took Radiohead's best ideas from The Bends and added electronic textures, more distortion, even more diverse guitar tones and creeping melodies. It's a glum masterpiece from the three opening tracks – the grinding "Airbag," the epic "Paranoid Android" and the chiming "Subterranean Homesick Alien." Guitars are sometimes obviously guitars, other times they sound like twittering insects from another planet. From the scuzzy guitars of "Electioneering" to the Pink Floyd-esque soar of "Lucky," there is intriguing guitar here from start to finish.
OK Computer is not an album for fans of air-punching rock, obviously: Thom Yorke's dour lyricism remains a barrier to many. But OK Computer's brooding textures – using the band's five players to maximum effect – made it one of the greatest albums of the 1990s.
"In Rainbows" (2007)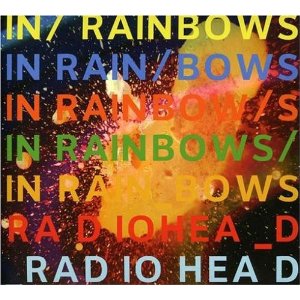 In Rainbows was the album Radiohead "gave away". You could download an MP3 version via an "honesty box" system, paying what you think it was worth. Many downloaded it for zero money, though it didn't stop the eventual CD release topping the albums chart anyway.
Despite the "stunt," In Rainbows is one of Radiohead's finest albums. Guitars aren't everywhere, but on the discordant  "Bodysnatchers," the delicate "Weird Fishes/Arpeggi," "House of Cards" and soaring "Jigsaw Falling into Place", In Rainbows is as good as anything Radiohead have ever recorded.
Apologies to Pablo Honey itself, Kid A, Amnesiac, Hail to the Thief and The King Of Limbs… the three above are my favorite Radiohead "guitar" albums.
Radiohead's Guitarists
With three guitarists, Radiohead are able to craft a rich mix of tones and styles that often make you wonder who's playing what. Jonny Greenwood admits that Radiohead's exploratory approach to instruments is "when we've got what we suspect to be an amazing song, but nobody knows what they're gonna play on it."
Notionally, youngest member Greenwood is the "lead" guitarist – those stabbing and distorted solos are usually him. But Greenwood also plays keys, including the ondes Martenot, an early electronic instrument from 1928. Ed O'Brien is Radiohead's FX-junky, arpgeggio-man and general "rhythm" player. He's also Radiohead's second voice – listen to "Weird Fishes/Arpeggi" for his soaring vocals. Thom Yorke doesn't always play guitar, but often plays acoustic and electric rhythm or more accompanying arpeggios and delves into alt tunings.
Gear-wise, Radiohead use just about anything that takes their fancy – they have loads of guitars, and Gibson guitars are a big part of the mix.
From Pablo Honey days onwards, Thom Yorke has regularly played red Gibson SGs – a '79 or '80 Standard Reissue III and, later, a '64 Cherry Red Gibson SG. This "No 1" replaced his Reissue which was stolen. Yorke removed the original vibrato arm on his '64. He also has a "No 2" SG (also '60s) used for certain alternate tunings such CGCGBE. Gibson SGs suit Yorke's slight frame, as he is just 5" 7' tall.
Yorke also plays a 1957 Gibson ES-125T (one pickup, with a peace sticker on the headstock) for "Street Spirit", and a '58 ES-125. He also plays a sunburst and a red Gibson ES-330. Yorke's Gibson Hummingbird is another favorite, being Yorke's main touring acoustic since 2008 (on "Fake Plastic Trees," "Paranoid Android," "Climbing Up The Walls," "No Surprises" and others. York's 2012 touring rig also included two Epiphone Casinos.
Ed O' Brien's current favorite Gibson seems to be his '60s ES-330, much played on In Rainbows. O'Brien also plays a '64 Epiphone Casino, a cream-colored '70s Gibson Les Paul Custom and a 1957 Les Paul Goldtop, a gift/on permanent loan from Johnny Marr. Irrelevant fact? O'Brien is 6" 4' tall.
Jonny Greenwood doesn't play many Gibsons, but the trio regularly swap instruments – Greenwood has played/recorded with an Epi Casino and the Les Paul Goldtop belonging to O'Brien.
With all these options – and numerous other makes of guitar, too – it's no surprise that the Radiohead trio's tapestry of guitars is a rich mix indeed. None of the three are 'showboating' soloists, but over two decades Radiohead have proved themselves one of the most inventive guitar bands of modern times. Haven't they?
Article courtesy of Gibson
Comments
comments
Powered by Facebook Comments