by Michael Leonard
As in the 1970s, the 1980s saw many guitar stars rocking Gibson Les Pauls in their own glory days. Here are just 10 players, of all genres and in no order, who kept the Les Paul cool and coveted in the decade of decadence…
Randy Rhoads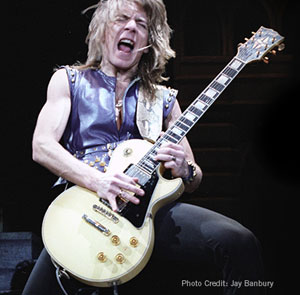 Although a cult guitar hero in Quiet Riot, Randy Rhoads truly went stellar on Ozzy Osbourne's first two solo albums, Blizzard of Ozz (1980) and Diary of a Madman (1981). A master of churningly-heavy riffs, jazz/classical melodies and super-shredding solos, Rhoads was a rare talent. Not only heavy rock, but the entire guitar world, lost a genuine star when Rhoads died in a plane crash in 1982 at just 25-years-old. "He was the most dedicated musician I ever met in my life, "Ozzy remembered, just after Rhoads' death. "He was a master of his art."
The classic Randy Rhoads guitar with Ozzy was his white 1974 Gibson Les Paul Custom, which darkened to a yellow-ish hue after years of use. You can buy a precise replica of his Gibson Randy Rhoads Les Paul Custom.
Watch Randy Rhoads with Ozzy Osbourne on "Crazy Train." Even if you don't like metal, this is amazing playing.
Neal Schon
Neal Schon was a teen prodigy, joining Carlos Santana's band aged 15. After he formed his own band, Journey, they built steadily to the mega-success of 1981's Escape album. Steve "The Voice" Perry may have wooed the girls, but guitarists knew that Schon was/is a guitar talent that provided six-string thrills beyond the AOR ballads. The Gibson Neal Schon Signature Les Paul (circa 2005) added a Floyd Rose tremolo unit, a dramatically sculpted neck/body joint for easier upper fret access, and a Fernandes Sustainer pickup.
Watch Escape's "Stone in Love" from the early '80s with Schon's guitar playing tighter than Steve Perry's jeans – and that means tight.
Steve Clark
Def Leppard's Steve Clark is a forgotten man, to some. But not to Def Leppard fans. Singer Joe Elliot called him "The Riffmaster." Clark died, aged 30, in 1991. But he made his mark on Def Leppard's biggest 1980s albums, Pyromaniaand Hysteria. Def Leppard even used Clark's demo riffs/song ideas after he died, on Adrenalize (1992).
Clark usually played white or black Gibson Les Paul Customs, sometimes equipped with Kahler vibrato units. He also played Gibson Firebirds, and Gibson EDS-1275 models. SteveClarkGuitar is a fine tribute site to a fine guitarist.
Mick Jones
When it came to AOR, Foreigner were nearly as big as Journey. English-born guitarist Mick Jones relied on a number of Les Pauls, including a 1958 black Les Paul Custom and a similar '57 Custom. He had mods made: on his '58, the middle position was "everything off" (a toggle switch, essentially) and in "treble position" its humbucker by-passed all volume and tone controls so it was full-on, mainly for solos. Gibson briefly made a repro of Mick Jones' black '57 Custom. A tobacco-finish Gibson Les Paul is Jones' current favorite.
Here's Foreigner playing "Jukebox Hero" live from 1981's smash album 4, with Jones shredding like crazy.
Steve Lukather
"Luke" just may be the ultimate session guitarist. He reckons he's played on over 700 albums (including his career in Toto). And in the early '80s, he was rocking Les Pauls. "Basically everything from 1980 to '83 was all the 59 'Les Paul burst," he says. That means Toto's IV, Michael Jackson's Thriller (including the "Beat It" riffs), and albums by Peter Criss, Don Henley, Warren Zevon, Herb Alpert, Cher, Chicago and many, many more. But heed Luke's words: "I'm afraid with any gear you won't sound like me… even if you did have the exact gear you wouldn't." But if you want to know about his Gibsons anyway, Steve Lukather talks to Gibson.com…
Johnny Marr
The Smiths' Johnny Marr was "jangling," right? But from '84 to The Smiths' split in '87, he actually recorded with a lot of Gibson Les Pauls. He bought one '60 sunburst Les Paul Standard from The Who's Pete Townshend. He later lent it to Oasis's Noel Gallagher who broke it, when hitting a stage invader in 1994. But even most electric guitars of The Smiths' The Queen Is Dead album of 1986 were recorded on a variety of Gibson Les Pauls, as was 1984's alt.rock Smiths perennial "How Soon is Now?" For nerds, here's fan footage of The Smiths with Johnny Marr and one of his Les Pauls.
Billy Duffy
When The Cult went rockin' redux for 1987's Electric album, Billy Duffy broke out the Les Pauls. Indeed, Electric,Sonic Temple and Ceremony were all mainly recorded with 1970s Gibson Les Paul Customs, one of which Duffy stripped back to a "naked" wood finish in tribute to his hero Mick Ronson. By the time of Sonic Temple (1989), Duffy's loaded his Les Pauls with Seymour Duncan JB pickups for extra fat tone.
"Growing up, all the guys I really liked were Les Paul players," says Duffy. "Mick Ronson, Mick Ralphs, Paul Kossoff. The black Les Paul Custom became my thing." In later years, one of Duffy's favorite recording guitar is a black '57 reissue two-piece Les Paul Custom that the Gibson Custom Shop made for him in 2000.
Watch The Cult at their most rockingness on 1989's "Sweet Soul Sister," Duffy with his "Ronson-ised" blond Custom.
Mark Knopfler
Dire Straits' mastermind changed his guitar sound around for the super-successful Brothers in Arms album of 1985. Out went double-cut single-coil guitars, in came Gibson Les Paul Standards. Knopfler plays a '58 and '59 (originals) and an '84 reissue. Like Jeff Beck, Knopfler doesn't use a pick, just fingers and thumb. But the rich sounds he got were superb, echoing the lyricism of B.B. King and Peter Green at their best, and with a fat tone (neck pickup preferred) that could only be a Gibson Les Paul. There were "pop" songs ("Money for Nothing" was a huge hit) onBrothers in Arms but its title-track shows what Knopfler plus a Gibson Les Paul could really do.
Watch Mark Knopfler performing "Brothers in Arms" with a string section and great Les Paul tone.
Slash
Most players know that one of Slash's "Les Paul" guitars for recording Guns N' Roses' Appetite for Destruction was, in fact, a copy by luthier Kris Derrig. But Slash owns scores of genuine Gibson Les Pauls he also used in Guns and beyond, and he did much to bring the guitar back into vogue in the late 1980s. "I had always thought Les Pauls were just cool-looking. I was automatically drawn to that style, and all my favorite guitar players played Les Pauls."
Gibson and Slash have long worked together to make replicas of his favorite Les Pauls. It started with the Slash Les Paul Custom Shop (1990), and went on to include the now-rare Snakepit Standard (1997) and numerous other Slash Les Paul models including the Slash Les Paul and the Slash Appetite for Destruction.
If you like Slash but don't like Les Pauls, maybe you should play the kazoo? Here's the hard rockin' 1980s and Les Pauls in a nutshell. It's "Paradise City."
Zakk Wylde
Ozzy Osbourne entered the '80s with a Les Paul hero in Randy Rhoads. He left the '80s with a new one, in Zakk Wylde. Wylde debuted in '88 on Osbourne's No Rest for the Wicked album, having successfully auditioned in '87.Wylde's "bullseye" Les Paul – aka "The Grail" – has since spawned numerous LP models and other Gibson and Epiphone models. Zakk's own Les Pauls now include a red flame-maple bullseye model, a black and antique-white bullseye, an orange "buzz-saw" model, and a green "camo" model – if it's finish-variations on a Les Paul you want, Zakk is your go-to guy. Wylde favors EMG pickups: an EMG85 in the neck position, an EMG81 in the bridge position. He also likes three-piece maple neck with no finish.
Here's how Wylde got his big break with Ozzy in 1988 – miming his Les Paul solo among some pigs. Yep, truly.
That's just 10. Who is your favorite Gibson Les Paul player who found fame in the 1980s?
Want more? Read 10 Gibson Les Paul Stars of the '70s.
Article courtesy of Gibson
Comments
comments
Powered by Facebook Comments